Book Signing with Kris (Mrs. B) Bradley
(of Confessions of a Pagan Soccer Mom fame)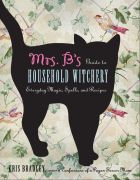 For domestic goddesses everywhere, add some magic and fun to those mundane household chores with Mrs. B's Guide to Household Witchery. Whether you're sweeping the floor, making a meal, or cleaning out that junk drawer, domestic witch Kris Bradley, creator of the popular blog Confessions of a Pagan Soccer Mom, will show you how to create spells and magic to bring happiness and balance into your home. Bradley offers ideas and solutions to make the most out of everyday items, activities, and obligations. The book includes simple rituals, spells, and ways to connect with the spirits that watch over your home and family. Includes an appendix of herbs and a complete materia magica from the kitchen pantry. There is also advice on such things as how to create magic while you cook, set up a family altar in the living room, or do a junk drawer divination. From anchovies to broccoli, and wine to yeast, from sweeping the floor to blow-drying your hair, you can change your outlook on life with a pinch of knowledge and a dash of magic!
Mrs. B's Guide to Household Witchery features:
The Elements for the Domestic Witch: a primer on the 4 elements and how to balance them in your home
The Domestic Witch's Herbal: magical uses for every herb and food in your pantry, as well as instant magic with pre-packaged spice mixes
Simple Sabbats for the Busy Witch: simple ways to celebrate the passing of the seasons
Magical Recipes: more than 100 recipes and spells

This event will take place on Saturday, October 27 from 1-4pm. No seat reservation is necessary. Please do not bring in books purchased elsewhere for signing by the author.
Kris Bradley, aka "Mrs. B." is the author of the popular Pagan blog, Confessions of a Pagan Soccer Mom. A practicing domestic witch for over a decade, Kris is also the author of the newly-released title,
Mrs. B's Guide to Household Witchery. She is an ordained minister, Reiki practitioner and teacher, and certified Chakra therapist. Her work on domestic witchery has been featured in PaganParenting.org and as a national column for Examiner.com. The founder of the Monmouth County Broom and Brew in NJ, she has helped establish 18 Broom and Brew groups across the US, Canada, and South Africa.

Living in central NJ with her husband and three children, Kris spends much of her time writing, creating her line of Voodude™ poppets, gardening, and trying to keep her herd of cats out of trouble. Visit her at www.krisbradley.com, her blog at Confessions of a Pagan Soccer Mom, or on Facebook.








Copyright 1997-2012 by SoulJourney. All rights reserved. All brand names and product names used on this website are trademarks or trade names of their respective holders. Revised June 29, 2012.