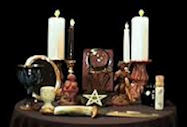 Wicca 101 Class Series

SoulJourney is pleased to present a series of beginner Wicca classes. Organized in a logical manner, this series will provide you with all the basics you will need in order to feel confident to practice WIcca on your own as a Solitary, or to feel you have the foundation to find a Coven to your liking.

We will thoroughly explore the topics listed below, and much more. We will make sure all your questions and concerns are answered and put to rest, so come prepared. Class size will be limited to afford everyone a full experience and nurturing environment.

Tuition for each class is $25.00, multiplied by the number in each Module. Each class will be held from 7-9pm on the date indicated below.

Offered in three modules on the following dates:
Module One in Four Parts ($100.00)
April 8, 2015 - History, Goddess and God, Traditions
April 15, 2015 - Elements
April 22, 2015 - Planets and Astrology
April 29, 2015 - Chakras, Days of the Week, Esbats and Sabbats

Please provide your phone number if you're a first-time student when utilizing PayPal. Thank you!



Module Two in Three Parts ($75.00)
May 6, 2015 - Divination, Crystals
May 13, 2015 - Herbs and Oils
May 20, 2015 - Colors, Candles, Magickal Alphabets






Module Three in Three Parts ($75.00)
May 27, 2015 - Meditation, Tools, Altar Set-up
June 3, 2015 - Magickal Laws and Theories, Raising Energy, Ethics
June 10, 2015 - Ritual and Casting Circle






Sandi Liss is the owner and proprietress of SoulJourney. She is an avid lover of crystals and utilizes them on a regular basis. She is skilled in pendulum use and candle magick and has experience in both solitary and coven work. She is a certified Level One Astrologer and holds her Master's Degree in Natural Healing, and is also a Master/Teacher in three different forms of Reiki. She follows an eclectic Pagan path, bringing her knowledge of Astrology into circle with her.



Pre-registration for all classes is mandatory and non-refundable payment is due in-full at time of registration. Classes can be paid for with Pay Pal, cash, Money Order, check (with proper ID), credit, or debit card. No-shows forfeit tuition. Please read complete guidelines here.






Copyright 1997-2015 by SoulJourney. All rights reserved. All brand names and product names used on this website are trademarks or trade names of their respective holders. Revised April 7, 2015.