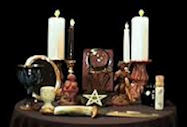 Wicca 101 Class Series

SoulJourney is excited to welcome back Devyn Barat who will be teaching Wicca 101! From the history of The Craft to the laws and theories of magick, creating sacred space, information on the elements and planets, how to raise energy, and so much more, Devyn provides a comprehensive and in-depth series for both the first-time student and those who may want to brush up on what they've previously learned. Whatever your goal, whether it be solitary practice or ultimately working with a group or coven, the knowledge you will obtain from this course will be an invaluable source of information upon which you will always draw, and is the foundation of the serious practitioner.

This series consists of 10 classes which are held every Tuesday from September 24 through November 26, 2013 from 7.00 till 9.00pm. Tuition is $450.00 for the entire series, or $45 for each 2-hour class. Required reading books can be purchased in the store at additional cost. Payment plan is available but tuition must be paid in full prior to the first class. Please come in and discuss if you need to make arrangements, or if you know you might miss a class, we can always arrange for a make-up.


Devyn Joseph Barat has been studying magick, Wicca, and spirituality for over 20 years. During that time, he has studied under a few different high priests and priestesses, as well as independently. He has written many rituals for private circles as well as written, directed, and performed in rituals for the Church of the Equinox, a Wiccan church formerly located in Bellevelle, NJ. He also wrote many articles for the Church's newsletter, The Solstice.

Devyn is also a writer, poet, and painter. His works are often permeated by spiritual and magickal themes and symbolism. He has published a book of poetry entitled, "Dance of a Thousand Muses", and his paintings can be purchased through inquiry.

Along with Judy Nerbetski (aka MayaKalia), Devyn was a founding member of Everything Akasha, working on formulation and sales of magickal and spiritual blends of incense, oils, and other related products. Through Everything Akasha, Devyn also taught a number of classes and workshops in magick, Wicca, and spirituality at venues including SoulJourney, Dreamstone Books, New Dimensions, Mystic Spirit, and Ramapo College. He is also a founding member of the Annual NJ Witches Ball. Most currently, as a member of Bergen Wiccan & Pagan Group, a teaching and training Coven, Devyn teaches their Wicca 101 series, the completion of which is a prerequisite for a group member to be accepted into their Coven-training program. Combining forces with BW&PG and its High Priestess, Niki Somers, who previously ran the annual Moonlight Masquerade, they have continued the annual charity event now called The Witches Moonlight Masquerade Ball, held at Samhain.

Please visit Devyn at www.magickalarts.com and Bergen Wiccan & Pagan Group at www.meetup.com/Bergen-Wiccan-and-Pagan-Group/.




Pre-registration for all classes is mandatory. Classes can be paid for with Pay Pal, cash, Money Order, check (with proper ID), credit, or debit card by calling the store at 973/838-6564. Class tuition must be paid in full 48 hours in advance of the class. You may cancel up to 24 hours in advance of the first class and receive a full refund. No-shows forfeit tuition. Please read complete guidelines here.






Copyright 1997-2013 by SoulJourney. All rights reserved. All brand names and product names used on this website are trademarks or trade names of their respective holders. Revised September 21, 2013.