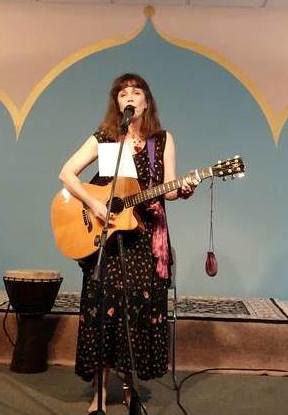 Goddess Guide Us Ritual and Concert
with Faerie Elaine Silver

Join us as we celebrate the release of Faerie Elaine's 20th CD recording, Goddess Guide Us! We will start with some welcoming music, create sacred space, and employ some simple Goddess ritual as Elaine shares the sources of her knowledge. We will be entertained with a concert featuring stories of her Goddess-inspired music as we enjoy an atmosphere of divinity, love, and wisdom in a safe space. There will be time for sharing and listening to each other, as well.

Dress "goddess-y", whatever that means to you, and feel free to bring a small personal object to place on the altar and take home. All as welcome!

This ritual is offered on Friday, June 23, 2017 (the night of the New Moon) from 7.00 until 9.00pm. Cost is $20 and you will receive a complimentary download card for Elaine's newest recording, Goddess Guide Me.

Faerie Elaine Silver is a seasoned performer, songwriter, touring musician, and recording artist (with 20 CDs and counting) with the voice of an Angel.

She is a metaphysical practitioner and trans-denominational minister, and an ordained Priestess of Divinity. For many years she has combined her beautiful voice and lively Spirit with Truth teachings to present healing concerts, music-inspired Sunday church lessons, workshops, and kirtan.

She has completed and continues her studies in the Science of Mind for practitioner through Religious Science International (Centers for Spiritual Living) and her work with ritual and sacred gatherings has garnered her the title of Faerie Priestess. On 10-10-10 she was ordained as a Priestess in the Temple of Isis in Geyserville CA. She is also a certified Passion TestŪ Facilitator and has assisted many people in finding more clarity in their lives through identifying their passion and heart-felt feelings around this simple, yet profound, technique. Most recently, Elaine has become a certified Beatleologist due to her obsession with the Fab Four and has developed a series of programs entitled Spirituality and the Beatles.

Elaine has had the honor of working in conjunction with many world-renowned spiritual leaders, teachers, and authors, including Deepak Chopra, Neale Donald Walsh (Conversations with God), don Miguel Ruiz (The Four Agreements), Barbara G. Walker (The Women's Encyclopedia of Myths and Secrets), Marianne Williamson (A Woman's Worth), Alan Cohen, and Wayne Dyer.

Well-known in her original home state as "The Folk Music Queen of New Jersey," she has also shared the stage with many of the world's brightest folk stars including Arlo Guthrie, Pete Seeger, Doc Watson, David Bromberg, The Kingston Trio, Richie Havens, John Prine, Louden Wainwright III, Willie Dixon, and Steve Forbert, to name a few. She has also enchanted hundreds of thousands of children in school assemblies, libraries, museums, and birthday parties as Faerie Elaine.

"This is the voice of an angel ... She sings about everyday life, love, the Earth, the Universe and ... Heaven. It is a relief to hear these positive words. Dim the lights and enjoy Elaine's singing. You will feel a different person afterwards."
- Roger Nupie, Nina Simone Society

Please view her website to learn more about Faerie Elaine Silver at www.elainesilver.com




Pre-registration for all classes is mandatory. Classes can be paid for with Pay Pal, cash, Money Order, check (with proper ID), credit, or debit card by calling the store at 973/838-6564. Payment in-full is expected at time of registration. Your credit/debit card will be charged at time of registration.
Please read complete guidelines
here.
Copyright 1997-2017 by SoulJourney. All rights reserved. All brand names and product names used on this website are trademarks or trade names of their respective holders. Revised June 22, 2017.