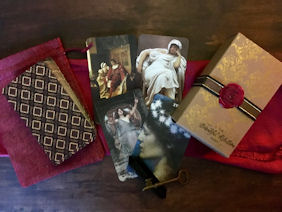 Join us for a celebration of the new tarot deck, The Beautiful Rebellion Tarot, curated by Robin L. Cole. Meet the curator, peruse the deck, talk tarot and art with like-minded souls. Signed and numbered decks and exclusive Beautiful Rebellion merchandise will be available for purchase at the event.

The set, which retails for $40.00, includes:
-Shrink-wrapped 78-card, full-color tarot deck printed on French casino quality card stock with a semi-gloss linen finish;
-A 120-page, full-color PDF guidebook featuring artists' information, card art, painting titles, keywords, curator's notes, unique spreads, and more (instruction card for PDF download included);
-A printed parchment Keyword Cheat Sheet;
-A burgundy jute drawstring bag;
-Each deck/bag/cheat sheet comes housed in a handmade kraft tuck-box, featuring metallic gold hand-stamping, black ribbon detail, and a hand-poured wax seal.

This exciting launch party will be held on Saturday, September 8, 2018, 12.00-4.00pm. Refreshments will be served. SoulJourney's own Tarot Pixie, Jennifer, will be offering readings with this deck that day, $65.00 for 30 minutes.

About the deck: The Beautiful Rebellion Tarot is an art deck featuring the beautiful works of master artists from the late 1800s and early 1900s, such as Dante Gabriel Rossetti, Edmund Blair Leighton, John Collier, John William Waterhouse, and more. Named for their romantic art and the artistic spirit their works embodied, this deck is a 78-card deck in Rider-Waite-Smith style, but far from traditional. It speaks to the reader on a deeper level through its medieval art and touches the soul, earning it the adage, "where art meets intuition."

About the deck curator: Robin is a quirky, New Jersey-based indie urban fantasy author who likes tarot cards when she is not writing. She writes the dark and snarky, emotionally-driven urban fantasy series The Warding. She is also the creator of The Beautiful Rebellion Tarot deck, an independently-published deck featuring the romantic, medieval imagery of several master artists.






Copyright 1997-2018 by SoulJourney. All rights reserved. All brand names and product names used on this website are trademarks or trade names of their respective holders. Revised July 17, 2018.