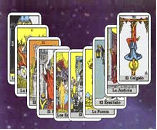 Northern New Jersey Tarot Study Group

The Northern New Jersey Tarot group is a group for anyone interested in Tarot! From the novice to the expert, whether you're just starting out, only curious, or have been reading, teaching, and creating decks for years, this group is for you. We are like-minded, interested Readers. This is a place where we can meet, grow, and share our love and passion for Tarot.

Our 2020 dates are: February 6 and 20, March 5 (with guest author Mark Horn) and 19, April 2 and 16 (with guest author E. Massey), May 14 (with guest author Scott Martin) and 28, June 4 and 18, July 9 and 23 (with guest author Gita Rash), August 6 and 20, September 10 and 24 (with guest author Sasha Graham), October 8 and 22, November 5 and 19, and December 10 (our holiday party). Please call SoulJourney (973/838-6564) or check out the Facebook pages for inclement weather notifications.

Please be sure and search for our Facebook page and like us there.

Books and decks are available at SoulJourney. Fee of $10.00 per person is payable in cash only the night of our meetings.

Rhonda Alin is our facilitator. She is a Tarot reader and aficionado who has been drawn to the cards for over 20 years. She is a member of the Tarosophy Tarot Association and a recipient of The Reader's Studio Certification from 2015 through 2019.


On March 5, we welcome Mark Horn to our meeting. He is the author of Tarot and the Gates of Light: A Kabbalistic Path to Liberation. He is a graduate of the Society of Souls program in Integrated Kabbalistic Healing. He has studied Kabbalah with well-respected academic and religious teachers, including Dr. Elliot Wolfson, Prof. Daniel Matt, and Rabbi Zalman Schachter-Shalomi z""I. He has studied tarot with many of today's leading teachers, including Rachel Pollack, Mary K. Greer, Robert K. Place, Ferol Humphrey, and Ruth Ann and Wald Amberstone. He lives in New York City.

Unlocking the Gates of Light: The Tree of Life Spread
Enter the phrase "Tree of Life tarot spread" into google and you'll get more than 3 million search results. But few of them will teach you the deep Kabbalistic practice that reveals every card as a gateway to Divine wisdom. In this workshop, you'll learn to read this spread in a way that help you (and your clients if you read for others) unlock hidden reserves of energy, greater creativity, healing, and freedom.

This spread is like an MRI of the soul: it shows one's life journey in 4 dimensions: spiritual, psychological, emotional, and physical. This information will enable you to uncover the blocks that keep you or your clients from life goals. It can help open the door to the Divine connection that is every person's birthright. This is a spread for life's big questions, and it's designed to speak to your own deepest yearnings.

Even if you've had no experience with traditional Kabbalistic concepts, you'll come away with keys that will help you unlock the gates of light. This technique will give you a powerful practice for your own inner work, and for your clients' evolution.

Fee is $20.00 for this class, payable in cash or check only.














Copyright 1997-2020 by SoulJourney. All rights reserved. All brand names and product names used on this website are trademarks or trade names of their respective holders. Revised January 25, 2020.