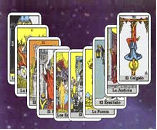 Foundations of Tarot Class

You've picked out a deck. You've opened the box and have stared at the images. You've shuffled and pulled a card. You might be well aware that the colors, shapes, and images all mean something. Their meaning is almost on the tip of your tongue. And then?

Join us as we start fro the beginning and build your skills at interpreting and divining the images in the Tarot! In the Tarot 101 4-week course, we will work through the Major Arcana, the four suits, and start with classic spreads. In the Tarot 201 4-week course we will dive deeper, looking at the court cards, reading reversals, finding the timing in the cards, and moving beyond the basics with spreads. Our reference book will be Rachel Pollack's recently updated classic, 78 Degrees of Wisdom and our foundation deck will be the rider Waite Smith.

Offered on various dates (please see below), 7.00-9.00pm, the non-refundable tuition is $120. Books and decks are available at SoulJourney. Please do not bring in books bought elsewhere for class.


Rhonda Alin is a Tarot Reader and Intuitive. She purchased her first deck of divination cards at age 12 and fell in love with the imagery and messages she found in them, growing familiar with the cards as well as other forms of divination over the years. Rhonda is a professional Tarot card reader and founder of Northern New Jersey Tarot. NNJ offers a Meetup group, workshops, and classes out of two metaphysical shops and the Northern New Jersey Tarot Center in East Hanover NJ. She has studied Tarot with some of the most respected and accomplished Readers, including Theresa Reed (The Tarot Lady"), Carrie Paris, Ellen Lorenzi-Princeas, as well as the "Grand Dames" of Tarot, Mary K. Greer and Rachel Pollack. Rhonda continues her studies in both her Craft as well as Cartomancy. She is available for private, in-person, and virtual card readings as well as personal and corporate events.



Tarot 101 (First Offering)
September 3 (Week One) - Major Arcana
September 10 (Week Two) - Swords and Wands
September 17 (Week Three) - Cups and Pentacles
October 1 (Week Four) - Classic Spreads


Tarot 101 (Second Offering)
October 8 (Week One) - Major Arcana
October 15 (Week Two) - Swords and Wands
October 22 (Week Three) - Cups and Pentacles
October 29 (Week Four) - Classic Spreads


Tarot 201
November 5 (Week One) - Working with the Court
November 12 (Week Two) - Reading Reversals
November 19 (Week Three) - Timing in the Cards
November 26 (Week Four) - Beyond Basic Spreads


Pre-registration for all classes is mandatory. Classes can be paid for with Pay Pal, cash, Money Order, check (with proper ID), credit, or debit card by calling the store at 973/838-6564. Payment in-full is expected at time of registration. Your credit/debit card will be charged at time of registration. Please read complete guidelines here.






Copyright 1997-2019 by SoulJourney. All rights reserved. All brand names and product names used on this website are trademarks or trade names of their respective holders. Revised June 8, 2019.