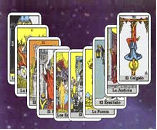 Northern NJ Tarot Meet-up

The Northern New Jersey Tarot Meet-up group is a newly-formed group for anyone interested in Tarot! From the novice to the expert, whether you're just starting out, only curious, or have been reading, teaching, and creating decks for years, this group is for you. We are like-minded, interested Readers. This is a place where we can meet, grow, and share our love and passion for Tarot.

We are meeting monthly at SoulJourney through 2017. Dates scheduled are Thursdays, May 25, June 1 and 15, July 13 and 27, August 10 and 24 (with a TBD author - $15/person), September 7 and 21 (with a TBD author - $25/person), October 12 and 26, November 2 and 30, and December 7, 7.00-9.00pm.

On Thursday, May 25, Courtney Weber will be our guest. The Celtic Cross is the bread-and-butter of Tarot reading spreads. But that doesn't mean it's always easy to interpret! How does it work? What do the different positions mean? Maybe you're familiar with the Celtic Cross spread but would like to deepen your practice with it? No matter your level of experience, this class has something to offer you on this classic Tarot spread. $25 per person.
Instructor Courtney Weber is a Wiccan priestess, writer, Tarot advisor, and activist recently relocated to Oregon. She is the author of Tarot for One: The At of Reading for Yourself and Brigid: History, Mystery, and Magick of the Celtic Goddess, both through Weiser Books. Courtney produced and designed Tarot of the Boroughs, a modern Tarot deck set in New York City, composed of original photography. She has been published in Huffington Post, The Wild Hunt, Circle Times magazine, and elsewhere. Visit her online at www.thecocowitch.com.

We will be working our way through Mary K. Greer's Tarot for Your Self through the Winter. Books and decks are available at SoulJourney. While there is no fee associated with the meet-up, donations are accepted to help offset the costs of maintaining the online group and meeting space.

Rhonda Chapman is our facilitator. She is a Tarot reader and aficionado who has been drawn to the cards for over 20 years. She is a member of the Tarosophy Tarot Association and a recipient of The Reader's Studio Certification in 2015 and 2016.

Copyright 1997-2017 by SoulJourney. All rights reserved. All brand names and product names used on this website are trademarks or trade names of their respective holders. Revised May 19, 2017.