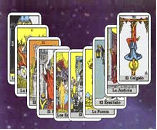 Northern NJ Tarot Meet-up

The Northern New Jersey Tarot Meet-up group is a group for anyone interested in Tarot! From the novice to the expert, whether you're just starting out, only curious, or have been reading, teaching, and creating decks for years, this group is for you. We are like-minded, interested Readers. This is a place where we can meet, grow, and share our love and passion for Tarot.

Our 2019 dates are: March 28 (guest speaker), April 4 and 18 (guest speaker), May 9 and 23, June 6 and 20, July 11 and 25, August 8 and 22, September 5 and 19, October 3 and 17, November 14, and December 5 (our holiday party). We meet 7.00-9.00pm on the dates indicated. Please call SoulJourney (973/838-6564) or check out the meetup and Facebook pages for inclement weather notifications.

Please be sure and join the page on www.meetup.com and search for our Facebook page and like us there.

Northern New Jersey Tarot has selected its next book! Welcome to the World of Bringing the Tarot to Life: Embody the Cards Through Creative Exploration by Scott Martin! If you've visited our group before and want to start at the beginning, now's the time! We'll start diving into Bringing the Tarot to Life with our first Meetups in September. So, grab your copy of the book and join us as we Embody the Cards!

Books and decks are available at SoulJourney. While there is no fee associated with the meet-up, donations are accepted to help offset the costs of maintaining the online group and meeting space.

On March 28 we welcome author Sasha Graham back to our meet-up! She will guide us in a workshop on The Sweet Darkness of a Tarot Practice. March is a wicked, wild trickster of a month. Let's ease ourselves into longer days and integrate seasonal transformation. This class is inspired by the poem "Sweet Darkness" by David Whyte. Examine the shadow side of the tart deck and peer into the deeper, darker realms of our own psyche. Shed light into the hidden gift parts of your tarot practice to integrate a richer and more evocative experience of the cards and of your life. $25/person.

On April 18 we welcome Mei Jin Lu, Ph.D. back to our meet-up! Mei Jin is a Taoist philosophy teacher, a 25th generation descendant of the Quan Zhen Dao lineage in Taoism, which originated in China. Drawing upon the power and richness of the Taoist system, to which few have access, Mei Jin applied its principles to create a unique, original, and accessible system of oracle cards for the benefit of everyone. In this meet-up, besides step-by-step instruction on how to use the Taoist oracle, she will also bring messages and guidance from the Taoist masters to you. Please come with real-life questions and she will show you the techniques or not only how to give yourself a reading, but also how to read others, with this sophisticated ancient Taoist structure. This class is for all levels, from beginner to advanced. $20/person.

Rhonda Chapman is our facilitator. She is a Tarot reader and aficionado who has been drawn to the cards for over 20 years. She is a member of the Tarosophy Tarot Association and a recipient of The Reader's Studio Certification from 2015 through 2018.

Copyright 1997-2019 by SoulJourney. All rights reserved. All brand names and product names used on this website are trademarks or trade names of their respective holders. Revised March 12, 2019.