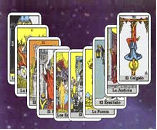 Northern NJ Tarot Meet-up

The Northern New Jersey Tarot Meet-up group is a group for anyone interested in Tarot! From the novice to the expert, whether you're just starting out, only curious, or have been reading, teaching, and creating decks for years, this group is for you. We are like-minded, interested Readers. This is a place where we can meet, grow, and share our love and passion for Tarot.


Our 2018 dates are: May 10 and 24 (guest author - see below); June 14 and 28 (guest author!); July 12 (guest author!) and 26; August 9 and 23 (guest author!); September 13 and 27; October 11 and 25; November 8; and December 6. We meet 7.00-9.00pm on the dates indicated. Please call SoulJourney (973/838-6564) or check out the meetup and Facebook pages for inclement weather notifications.

Please be sure and join the page on www.meetup.com and search for our Facebook page and like us there.

On May 24 we welcome well-known author Sasha Graham! She will lead us in a discussion on Tarot Enchantments. You have magic at your fingertips with a pack of Tarot cards. Why cast spells here and there when you can turn your entire life into an enchantment? Learn the Sacred Seven Cornerstones of constant magic, embark in a guided meditation, meet and integrate archetypal energy, craft Sacred space with every step, and use the Tarot as a doorway to magic. Sasha Graham and her work have been featured on media outlets such as Sirius XM Radio, The Wall Street Journal, the Daily News and The New York Times. She was the first Tarot reader to be featured on the cover of Crain's New York Business. Sasha is a contributor to She Knows and wrote a regular Tarot column for Marie Claire. She was a regular guest on the WPIX Morning News reading Tarot for celebrities and pop culture. She teaches classes and leads Tarot workshops around the world. Her first Tarot deck with Disney artist Mirco Pierfederici, The Haunted House Tarot, is being released by Lo Scarabeo in 2018. Sasha is the author of Tarot Diva, 365 Tarot Spells, and 365 Tarot Spreads. Her new book, Llewellyn's Complete Book of the Rider-Waite-Smith Tarot will be released in September 2018. $25 per person.

We will be working our way through Mary K. Greer's Tarot for Your Self through the Winter. Books and decks are available at SoulJourney. While there is no fee associated with the meet-up, donations are accepted to help offset the costs of maintaining the online group and meeting space.

Rhonda Chapman is our facilitator. She is a Tarot reader and aficionado who has been drawn to the cards for over 20 years. She is a member of the Tarosophy Tarot Association and a recipient of The Reader's Studio Certification in 2015 and 2016.

Copyright 1997-2018 by SoulJourney. All rights reserved. All brand names and product names used on this website are trademarks or trade names of their respective holders. Revised April 20, 2018.