REIKI LEVEL ONE CERTIFICATION

Reiki (pronounced "ray-key") means universal (rei) life force energy (ki) and works on the premise that all things have energy. Reiki is an ancient Japanese practice that works on mind, body, and spirit, realizing many benefits: increased relaxation, reduced stress, accelerated healing, improved blood flow, reduced anxiety, reduced pain, increased energy and vitality, release of emotional blockages, aided spiritual growth, and better sleep, just to name a few.

No prior knowledge of or experience with Reiki is necessary. The ability to do Reiki is learned and passed down from Master to Student during the attunement process. Reiki is right for everyone in that it does no harm and is intelligent and knows where to go. If you're someone who is empathic and always wants to help others, then Reiki is perfect for you. If you yourself are dealing with issues, self-Reiki can help you de-stress. It's a beautiful healing modality that truly needs to be experienced to be appreciated. The recognition of Reiki's healing effects and acceptance is evidenced by it becoming more widespread and being offered in many large hospitals, cancer centers, wellness centers, and military bases. Once you're attuned to Reiki, you're attuned for life.

Reiki Level One Certification introduces the Reiki program and teaches the history, principles, hand placement, chakras, intentions, and expectations of Reiki. There will be hands-on practice and you will receive your first attunement. We will also briefly discuss Animal Reiki and learn about working with energy and intuition. You may then practice self-Reiki or Reiki on your family, friends, and pets. However, at this level, you may not charge for your services. You will receive a Certificate upon completion of this level so please provide the name you wish listed. This class is ideal for self-care and for exploring your desires to go further with Reiki.

Level One will be held on the following dates:
Saturdays, August 19 and 26, 2017, 10.00am - 4.00pm
Thursdays, November 2 and 9, 2017, 11.00 - 5.00pm
Saturdays, November 11 and 18, 2017, 10.00am - 4.00pm

For further information and pricing, please go here.

Click here to review Reiki Level Two Certification.
Click here to review Reiki Level Three Certification.
Click here to review Reiki Master/Teacher Level Certification

Suggested Reading:
The Original Reiki Handbook of Dr. Mikao Usui by Frank Petter
Reiki: The Healing Touch by William Lee Rand
The Reiki Bible by Eleanor McKenzie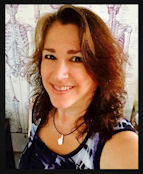 Leslie L. Sommers is the owner/operator of Inner Calm Reiki. She is a Reiki Master/Teacher, Energy Healer, Empath and Intuitive, as well as a non-denominational Ordained Minister and Spiritualist. She offers Reiki and Animal Reiki (in-person or distant), Card Readings and Animal Readings, Intuitive/Spiritual Coaching, and personalized Guided Meditations. She believes in a mind/body/spirit connection and that ultimately, to truly heal, you must heal the whole person and not just parts of them. Reiki, being the wonderful modality it is, works on mind, body, and spirit. It's intelligent in that it can do no harm, knows where it's needed to be most beneficial, and always works for an individual's highest good. Leslie loves connecting to the life force energy and teaching it to others. She's been an Empath and Intuitive her entire life and has done healing work for some time. She was called to become a Reiki Master/Teacher so that she could not only use her abilities to help others, but so that she could teach others as well. She takes this responsibility very seriously and offers a thorough training program in a fun atmosphere. When she's not working on clients or teaching, she can be found on Facebook, where she shares her inspiring and motivational posts. Leslie is a member in good standing with: International Association of Reiki Professionals, ICRT Reiki Membership Association, Universal Life Church Monastery, The Wellness Universe, and MindBody Network. Leslie is also available for Reiki sessions, if you'd like to experience it for yourself. You can contact her directly if you're interested. Please visit her at Inner Calm Reiki or find her on Facebook and Twitter @InnerCalmReiki.






Copyright 1997-2017 by SoulJourney. All rights reserved. All brand names and product names used on this website are trademarks or trade names of their respective holders. Revised August 8, 2017.