REIKI LEVEL TWO CERTIFICATION
Reiki Level Two Certification teaches distant Reiki, symbols, and is a refresher of everything previously learned. You will receive symbols and your second attunement, as well as a Certificate upon completion. We will learn more about Animal Reiki also. After completion of this level you are considered a Reiki Practitioner and are then able to do in-person and/or distant Reiki for a fee.

This certification is offered on an as-requested basis. Please contact the store to arrange for a mutually convenient date at least three months after completion of Reiki One. Level Two will be held on two full days, within SoulJourney store hours, one week apart.

For further information and pricing, please go here.

Reiki Two will be offered on the following dates:
Thursdays, September 7 and 14, 2017, 11.00am - 5.00pm
Saturdays, September 23 and 30, 2017, 10.00am - 4.00pm
Thursdays, December 7 and 14, 2017, 11.00am - 5.00pm

Click here to review Reiki Level One Certification.
Click here to review Reiki Level Three Certification.
Click here to review Reiki Master/Teacher Level Certification.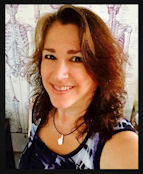 Leslie L. Sommers is the owner/operator of Inner Calm Reiki. She is a Reiki Master/Teacher, Energy Healer, Empath and Intuitive, as well as a non-denominational Ordained Minister and Spiritualist. She offers Reiki and Animal Reiki (in-person or distant), Card Readings and Animal Readings, Intuitive/Spiritual Coaching, and personalized Guided Meditations. She believes in a mind/body/spirit connection and that ultimately, to truly heal, you must heal the whole person and not just parts of them. Reiki, being the wonderful modality it is, works on mind, body, and spirit. It's intelligent in that it can do no harm, knows where it's needed to be most beneficial, and always works for an individual's highest good. Leslie loves connecting to the life force energy and teaching it to others. She's been an Empath and Intuitive her entire life and has done healing work for some time. She was called to become a Reiki Master/Teacher so that she could not only use her abilities to help others, but so that she could teach others as well. She takes this responsibility very seriously and offers a thorough training program in a fun atmosphere. When she's not working on clients or teaching, she can be found on Facebook, where she shares her inspiring and motivational posts. Leslie is a member in good standing with: International Association of Reiki Professionals, ICRT Reiki Membership Association, Universal Life Church Monastery, The Wellness Universe, and MindBody Network. Please visit her at Inner Calm Reiki or find her on Facebook and Twitter @InnerCalmReiki.







Copyright 1997-2017 by SoulJourney. All rights reserved. All brand names and product names used on this website are trademarks or trade names of their respective holders. Revised August 8, 2017.