Ritual Sprays
All the sprays listed below are intended to be used for cleansing and purification.
They are excellent for when you cannot burn incense or oil, such as in an office situation, or in a home where someone might be affected by incense smoke. They can, and should, be used as often as needed to cleanse space and people.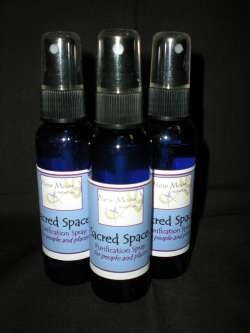 New Moon Naturals Sacred Space Spray 2 fluid oz. bottle $10.00 or 4 fluid oz. bottle $12.95
For people and places. Made with distilled water, organic essential oils of Frankincense, Cedar, Sage,
Flower Essences, and under the influence of the Lunar and cosmic rhythms.



CURRENTLY OUT OF STOCK
Florida Water - Small (2oz.) $2.95
Florida Water - Medium (4oz.) $3.95
Florida Water - Large (7.5oz.) $5.95
Rose Water - Medium (4oz.) $3.95

Add Florida Water to a bath or as an astringent to refresh your skin and tone muscles. Spray as a room freshener or to cleanse germs. Apply to temples and forehead to hasten relief of headaches. Apply to insect bites for fast healing. After exercise, use Florida Water as an invigorating rubdown for muscles and skin. Keep in a spray bottle in the fridge for a cooling spritz in summer. Spray clothes before ironing to add a cooling, fresh smell, or spray curtains for a great-smelling room. South American Shamans use Florida Water for cleansing of space and people.
The clean, citrus-y smell is enlightening and purifying.



Copyright 1997-2017 by SoulJourney. All rights reserved. All brand names and product names used on this website are trademarks or trade names of their respective holders. Revised December 30, 2016.