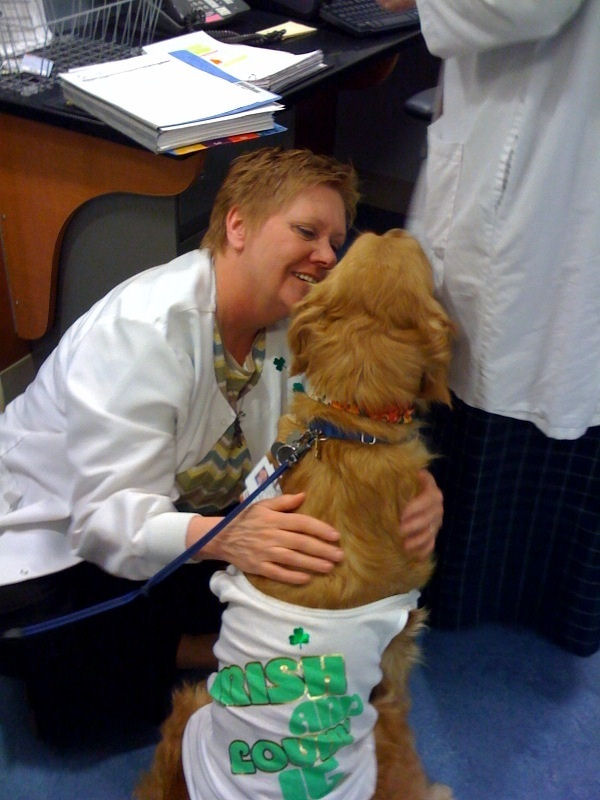 Sharon, a Registered Nurse and Complementary Medicine Therapist in Elizabeth, NJ, aside from being an animal communicator, is an IGM Therapeutic Acupressure practitioner, Hypnotherapist (licensed in NY and PA), Hypnocounselor (licensed in NJ), Reiki Master/Teacher, Integrated Energy Therapy Master Instructor, Reconnective Healing practitioner, and a Thai and Chair Massage practitioner serving both people and their pets. She is a proud member of the American Holistic Nurses Association, the International Medical and Dental Hypnosis Association, and a nutrition student at Trinity College of Natural Health.
She is the founder and Director of Get In Touch Too LLC located in Washington Township, a center offering a unique approach to healing, for people, their pets, and between the pet and its owner. Please visit her website at www.intouchtoo.com

Animals, just like humans, have their own personalities, thought processes, needs and views on the world in which we live. Through an animal communication, you can find out why your pet is behaving (or misbehaving) the way s/he is. With Sharon's assistance, you can "speak" to your pets that have passed over.

Open up a new world and understanding between you and your animal friend(s). Animals are very simplistic creatures. They are not concerned about world politics, paying the mortgage, etc. They are true spirit housed in a physical body. Learn what animal communication is and what it is not. How they live in a "positive" and not a "negative" world, and how they view "sharing" their lifetime with their human companions.

We are all a part of nature. Because of this we are born with the innate ability to communicate with everything that is in nature. As humans, we rely heavily upon verbal communication (or sign language for the deaf). We often forget that there are many other ways of communicating. When we start to remember our connection to nature, we realize that we can communicate with animals (and plants, trees, etc.). Interspecies communication begins with the knowing that all animals have spirits and that they communicate through their spirits as well as their body language. They are comfortable with their surroundings and open themselves up to "speaking." When they are in a strange place, they are looking at all the sights, smelling all the smells, wondering where they are, trying to figure out who all of these people are. Therefore, when a communication is done in a different environment than they are used to, they "say" a lot of things that do not pertain to why the person is asking for the communication. If they are left at home or wherever they are used to being, the conversation is more clear and issues are resolved quickly. A picture is nice but not necessary. Sometimes, in a multi-pet home, a picture is helpful to single out the pet that is getting the communication. The animals are very grateful for these readings and are very eager to share their thoughts. So remember, we are speaking to their spirit telepathically and this knows no limits.

Sharon is available for readings by appointment only, with a minimum of four readings. Please do not bring your pet to the store; a picture is helpful (please see preceding paragraph), but not necessary for Sharon to connect with an animal. Sharon's readings are $100 per 45-minute reading. She is also available for private parties.


Testimonials for Sharon's work, from Cynthia (Mom to Zoe and Zeke):
"We are so grateful! We rearranged their sleeping area as you suggested to accommodate some of Zeke's frustrations with Zoe and it went very well. A very good night for all! I ordered some (Feng Shui) mirrors to deal with a neighbor issue for Zoe's peace of mind, have salt ready, and sent blessings to the "gentleman" and his family as you suggested. The pups have been so good and playing well together. Just doing this communication, I believe, was reassuring for Zoe and Zeke, as well. It is so gratifying to know this is possible and that better solutions are possible. I highly recommend Sharon if one's pet has issues. When I told my husband about Sharon he was stunned at her ability to know certain facts that no one but us knew."

from Karin (about Shade):
"I just wanted to thank you for our conversation on Saturday. I am really so happy to have been able to connect with little Shade. It was really helpful."

from Annie (about Tum):
"Our conversation with Tum last night really helped me so much, and I hope helped him too.
Thank you so much for sharing your gift."

from Suzanne (about Crystal):
"God Bless You, Sharon. I will never forget what you did for me in April. You were the first to tell me about animal communication and if I never knew, I don't know how I would have made it this far."

from S.G., Basking Ridge NJ:
"I can't thank you enough for helping me through one of the most difficult and painful periods of my life. It has been such a gift and delight working with you. I have experienced an incredible improvement in my health through your Therapeutic Acupressure."

from Missy, Easton PA:
"Sharon does many forms of alternative medicine. I have been seeing her for health issues for a few months now and have found her methods very soothing and helpful. There is much more to the story but to give my own testimony, I had shingles some years back that hit my sciatic nerve. I have had horrible pain from my hip down to the tip of my toes for a long time. Nothing really ever got rid of the pain but after seeing Sharon for three sessions, I have been completely relieved of the pain and to date it still has not come back. For this I am very happy and have continued to see her for many other sessions. "

from K.B., Basking Ridge NJ:
"It has been such a joy working with you over the last year. My daughter experienced an incredible improvement in her physical and emotional health through your Therapeutic Acupressure. As an undiagnosed sufferer of Bi-polar disorder, my daughter experienced overwhelming stresses and pressures to her body, mind, and emotional well-being that such an imbalance can create.

Once diagnosed, proper medication, combined with your gentle and experienced acupressure sessions, enabled my daughter to experience relief on many levels. Her physical body, which was exhausted and ravished by months of harsh
chemical treatments, regenerated. With your guidance, support, and the gentle non-invasive treatment her emotional well-being blossomed as well.

I can't thank you enough, for helping us through one of the most difficult experiences in both my daughter's and my lives. Get In Touch Too, LLC was an unexpected pleasure amidst overwhelming pain and confusion."

from J.P., Saylorsburg PA:
"I had continual pain on the bottom of my foot from plantar fasciitis for a long time and did not know where to turn. The doctors only prescribed inserts for my shoes to help alleviate the pain. I found Sharon's brochure in a health food store and gave her a call. After several sessions I began to feel energized, less stressed, and the pain in my foot was slowly going away. I definitely have more energy and feel revitalized. Each session has helped not only the pain in my foot but the entire rest of my body. I would recommend this highly to anyone."
Copyright 1997-2017 by SoulJourney.
All rights reserved. All brand names and product names used on this website are trademarks or trade names of their respective holders. Revised December 30, 2016.